Irena Castaway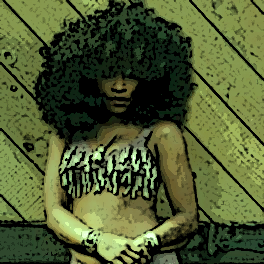 Ms. Castaway made it clear from the beginning that she was going to take over the throne of this magical disco kingdom.
It was a hot summer night back in 1978 when she first heard the ever-so-enchanting lyrics, "Oh No Not I…I Will Survive…" She turned to her girlfriend and said, "I have to go get me a microphone and some rollerskates!"
Her career would bring her to the company of such artists as Wild Fire, Mon Cheri and of course, KC and the Sunflower Boys. That's where she met Vito. He tugged on her coat tails like a dog tryin' wrestlin' a sock! Finally she gave in and agreed to be a "special guest" with Superflydisco. It hasn't stopped since then.
---
Vito El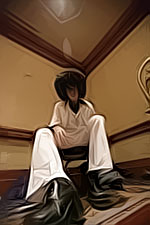 Vito El started the band after touring with KC and the Sunflower Boys and then founding the "White Sandbox"-Studio 54's VVIP lounge in 1978 which brought him to new heights of professional celebration. The band has been seen all across the globe performing at numerous parties and festivals keeping the fever alive and now they're back and more booty-licious than ever!
---
Bobby "Hot Peppah" Noir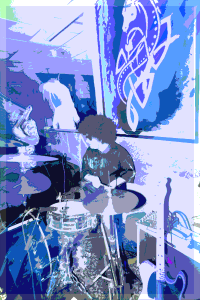 Bobby did it all. And it wasn't easy. Fathering thirteen boys while touring in the late seventies with more disco acts than anyone worth their groovaliscious salt could shake a stick at, Bobby kept it simple. The Two and The Four. He has been the backbone of most every hip that did any shakin' while he was in the room.
Vito and Bobby met on rather scandalous circumstances. Vito walked in on Bobby and Vito's then girlfriend Tammy backstage at an Earth, Wind and Fire concert. Vito had the monkey on his back at that time and didn't even consider the affair he had walked in on because of the white pile on the coffee table.
Bobby and Tammy put Vito into his first rehab and the three have had an oddly strong bond ever since.
---
Ross "The Weatherman" Sunshine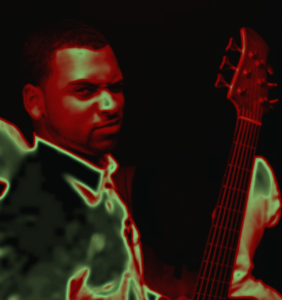 Having served under the influence of the groove since the early 70's, Ross played with such greats as Wild Fire, The Ohio Playboys and The Grand Larson Funk Project. Ross hooked up with Vito while playing as a hired gun at a ska festival in Rosslau, Germany. Fortunately, Vito got Ron's number and looked him up when they both got back to DC and the rest is funkified history…
---
Nico Congo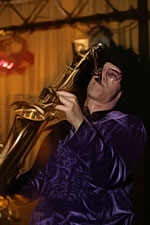 Back in late 1979, Vito decided to clear his mind and take a break from it all by making his way to the Motherland. While there, he opened up a corn dog stand in a small village outside of Ekami where he ran into a brotha from another motha named Nico who could blow his horn like there was no sunshine left at the beach. The two partnered up and put together an afro-disco trio called The Fairweathers. The Fairweathers oddly enough didn't fair too well, so Vito decided to come back home to DC. Some 15 years later, he ran into Nico at a gig in Adam's Morgan. He couldn't resist the urge to have Nico join up with Superflydisco and the two have done quite fair ever since!
---
The SFD Hornz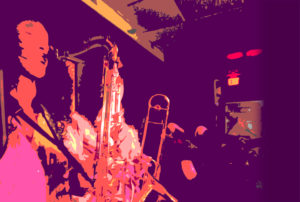 The SFD Hornz is a virtual "who's who" of the Washington DC area music scene. These cats will razzle, dazzle and make your hair frazzle with their infectious lines and hits. When Vito breaks it down and gives them their cue you better look out, 'cause it's about to get ultra-funky!
Some of these cats have played with such notable artists as Prince, George Duke, Parliament Funkadelic, The Ohio Players and many many more…
The hornz will bring it to another level….